As proud members of CENTURY 21 Reward Realty we are able to utilize the overall brand power of CENTURY 21 as well as extend other opportunities to our valued clients. 
Limited Time Offer!  
 Our brokerage 
CENTURY 21 Reward Realty
 is 
offering a chance to win $5000
 when you 
buy
 or 
list and
sell 
your home with us!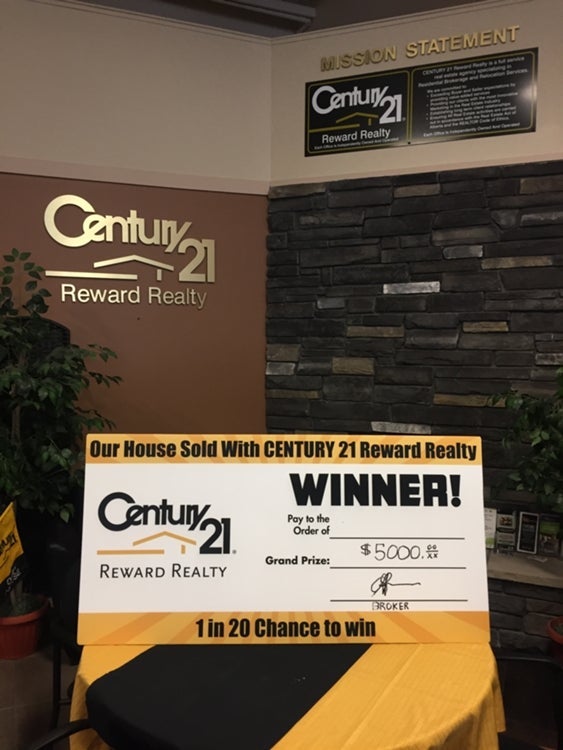 Congratulations to George and Deborah for winning our most recent draw! 
...
Wouldn't you like to be next?
BUY 
or 
LIST and
SELL
 your home with us at CENTURY 21 Reward Realty and you will have the opportunity to enter the brokerage's draw for 
$5000!
Buyers and Sellers will have a 
1 in 20 
chance to 
WIN the MONEY
!
Geographical Area
: Edmonton, St. Albert, Sturgeon County, Parkland County, Strathcona County, and Sherwood Park.
Conditions or Exclusions: 
 Upon a successful sale - Showcase 21 Listings only at 7% on the 1st 100,000 and 3% on the balance of the
 sale price + GST, and Purchases with a remuneration of 3.5% on the 1st 100,000 and 1.5% on the balance of the sale price + GST.
The draw will occur once 20 homes have been sold, closed, and funded.